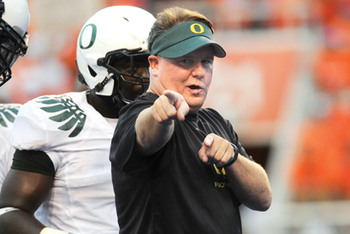 If Cleveland Browns fans are being honest with themselves, and if there's anything Cleveland Browns fans like less than all the losing it's being honest with themselves, then they'll admit that the best thing to happen to their team this past weekend was the inability of owner Jimmy Haslam and CEO Joe Banner to secure the services of Chip Kelly as the team's 838th head coach since 1999.
Kelly might very well be a good fit for the pro game.

That's an unknown.

But there's enough checkers in his past to more than suggest that he's probably not the guy this team needs right now, or ever.
First of all, Kelly is a guy that plays the in betweens.

He may not be a complete scoundrel but he's nobody's idea of an altar boy, either.

Kelly seems most comfortable when he can run his little black ops off the radar screen to the approving glance of Phil Knight at Nike.

Kelly's a tease of sorts having flirted with the NFL a year ago as well but that's his least objectionable quality. In the end, he's perhaps a bit higher on the scale than a two-bit hustler but not much.
I figured that Kelly was far more serious about the NFL this year having seen how well Pete Carroll could escape the slow moving clutches of a NCAA infractions committee posse and become the toast of the NFL.

But either Kelly figures that NCAA still has its hands full with the Penn State mess and the pending litigation to get around to slapping down the Oregon program any time soon or his ego has overtaken his common sense.

Either way, Kelly left the NFL once again at the precipice to stay with the Ducks and the history he's forged of good offenses and almost accomplishments.
Kelly's Oregon program has featured plenty of iffy players brought to campus by even iffier handlers. The NCAA has investigated and to this point it seems that the only conclusions to draw is that it needs better ways to regulate the shady characters employed by programs like Oregon to steer questionable student/athletes to campus under the guise of providing amorphous recruiting services.

The NCAA may still come down more directly on Oregon though that outfit is so random that it really is anyone's guess what it will do next.
But as to Kelly, i
s this the kind of guy you really want fronting your franchise?

It's a cutthroat business and all and often times to get to the top you have to get awfully comfortable navigating the edge of a cliff, but in Kelly's short time in Oregon the only thing he's really proven is that he can pirouette along that cliff's edge with the best of them.
The other sense you get is that he really has no particular interest in being a NFL head coach.

He just wants the people of and around Oregon to think he does.

This is the second consecutive off season he's flirted with the NFL and the second consecutive off season he ended up right where he began except with a bigger contract.

Kelly plays the game well but I'm guessing even the knuckleheads in Oregon will begin to discern the pattern.

Indeed, for all the various markers out there demonstrating the absolute corruption in college football the courting of Kelly from those more interested in wins then integrity is among the most prominent.
Besides a reputation for running a fast-paced read option offense that could embarrass bad college defenses, what exactly does Kelly bring to the NFL party anyway?

Even the worst defenses in the NFL are better by leaps and more leaps than the best college defense.

Seattle and Washington are having some success with the read option at the moment but it requires a specific type of quarterback that most teams, including Cleveland, don't have on the roster and then puts that athlete constantly in harm's way.

In a league with a salary cap where quarterbacks garner a disproportionate share of cap space, no coach with hopes for a long career can abide consistently putting their highest priced asset at risk. All you needed to do was see how much both Russell Wilson and Robert Griffin III got bounced around in Sunday's Seattle-Washington playoff game to realize that no team will be able to run a steady diet of fast-paced read option.
If anything, the injury Griffin suffered Sunday served as a reminder on how precarious it is to run the type of offense that Kelly cultivates in the NFL.

Griffin is a special athlete and Washington head coach Mike Shanahan exploited every inch of that specialness in riding Griffin to the playoffs.

But Shanahan died by the same sword he lived by most of the season when Griffin went down with an apparently even more serious knee injury than he suffered earlier in the season.

It's an instructive knee injury in the sense that Griffin is a freak of a physical specimen.

That said he's not any more immune to injuries than any other player counted on to orchestrate every offensive snap in the most physically demanding sport on the planet.

The NFL has flirted with running quarterbacks all throughout its history and keeps returning to a more balanced mix for a reason.
The reasons Browns fans seem apoplectic at the moment over losing Kelly is really because they got overheated in the thought of him coming to Cleveland in the first place coupled with a lazy and ineffective local media that used speculation and guess work rather than close in reporting with real sources to build false expectations in fans desperate for any good news.

It's actually mystifying to me why anyone would think that Kelly would be some sort of all healing balm to a franchise that has literally cornered the market on bad decision making.

I've not used the restroom facilities inside the Berea complex but I'm betting that they don't even flush properly.
But again, if Browns fans stop and really consider the situation carefully they'll realize that Kelly offered no greater promise and arguably less than, say, Butch Davis and we know how that turned out.
A competent coaching staff will do wonders for this franchise but there are no magic bullets.

Kelly struck me as someone who always fired blanks anyway so the fact that he's out of the picture is probably more a reason to celebrate than cry.
The question now turns to which sap gets to wear the banner of "1st runner up" in the retooled, renewed, rebooted search for the team's second choice or, as the Browns' public relations department will soon refer to him, "the guy we really wanted all along."
It could be a recently fired retread but I'd be suspicious if only because of how well that all worked out with Eric Mangini.

It could also be an up and coming assistant, you know, the next great offensive or defensive mind in the game.

That kind of sounds like the search for a more legitimate version of Pat Shurmur, doesn't it?

Or, they could also go for the long time assistant who everyone acknowledges should have gotten his shot years ago but just didn't, sort of like Romeo Crennel and Bud Carson.
When it gets right down to it, there aren't any good options just debating points over the best of the worst options which is what Haslam probably realized about 15 minutes after Kelly called on Saturday to say that he'd be a little late to dinner.
Picking a successful head coach in the NFL trends far more to luck than anyone will admit.

You could look at almost any of the Browns' previous 648 head coaches since 1999 and make a case as to why he was a good hire, except for Mangini.

That none of them worked out was more a team effort than a steady case of individual failures.

If Haslam and Banner really want whoever is next in the barrel to be successful they better make sure he's surrounded by utter competence throughout for it will be that support team more than anything else that will determine the fate of the pending intended.